August 25, 2023
&nbsp
In today's interconnected world, education is no longer confined to traditional classroom settings. Blended Student Mobility (BSM) is revolutionising the learning landscape by combining the best of physical and virtual experiences. This innovative approach offers students a unique opportunity to expand their horizons, build cross-cultural competencies, and gain a global perspective. What are the most noteworthy aspects of Blended Mobility that make it a game-changer in higher education?
The Fusion of Virtual and Physical Learning: At the heart of BSM lies the integration of virtual and physical learning components. The virtual aspect utilises cutting-edge digital technologies, enabling remote or online learning experiences. From online classes and webinars to interactive multimedia content, students engage in collaborative discussions and knowledge exchange regardless of their physical location. This fusion of face-to-face interactions, such as in the classroom, a laboratory or other educational venues, with virtual resources ensures a comprehensive and enriching educational journey.
Flexibility and Personalisation: One of the most remarkable features of BSM is its flexibility. Students can choose from various models, such as short-term or long-term mobility, or even participate in blended joint degree programs. With the self-blend and "a la carte" models, learners can tailor their learning paths according to their individual needs and preferences. This personalised approach fosters greater autonomy, empowering students to take control of their education.
Enhancing Cross-Cultural Understanding: BSM brings students from diverse backgrounds together, facilitating cross-cultural learning experiences. Physical mobility allows students to immerse themselves in a different cultural and linguistic setting, thus developing intercultural competencies. The virtual component complements this by enabling interactions with peers from different countries before, during, and after the mobility period, creating a truly global learning environment.
Project-Based Learning for Real-World Impact: Project-based blended learning is a standout feature of BSM. By combining online and face-to-face experiences, students engage in authentic, collaborative projects, addressing real-world challenges. This approach hones critical thinking, problem-solving, and communication skills, preparing students for future careers and civic engagement. Moreover, it allows learners to connect their academic knowledge to real-life contexts, creating a profound impact on their personal and professional growth.
Embracing Asynchronous and Synchronous Learning: BSM strikes a balance between asynchronous and synchronous learning. Asynchronous elements enable students to complete activities at their own pace, promoting flexibility and accessibility. On the other hand, synchronous elements facilitate real-time interactions, encouraging collaboration and immediate feedback. This dynamic combination ensures that students receive a comprehensive and engaging learning experience.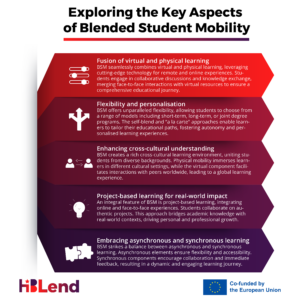 Cover photo by Yan Krukau.